Genelec 9320A SAM™ Reference Controller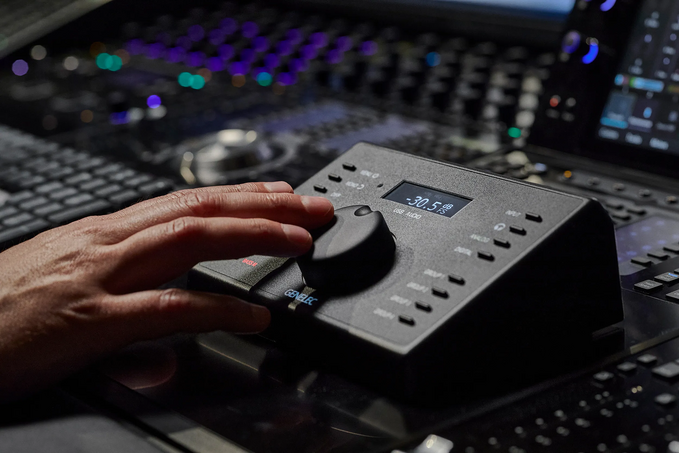 Genelec's new UNIO Platform empowers professionals to confidently work anywhere. As a key UNIO element, the 9320A integrates in-room and headphone monitoring for a single, reliable workflow – completely personalised for total accuracy.
With its flexible connectivity, reference grade headphone output and physical control of our adaptive technologies, the 9320A is the ideal hub for professional audio work – from stereo to immersive – in any space.
Whether working in acoustically treated studio environments, at home, in temporary spaces or on the road, UNIO and the 9320A ensure a seamless listening experience when switching between professional in-room and headphone monitoring.
With UNIO, the power of our adaptive technologies is now easier to access than ever before, so you can confidently work beyond the studio.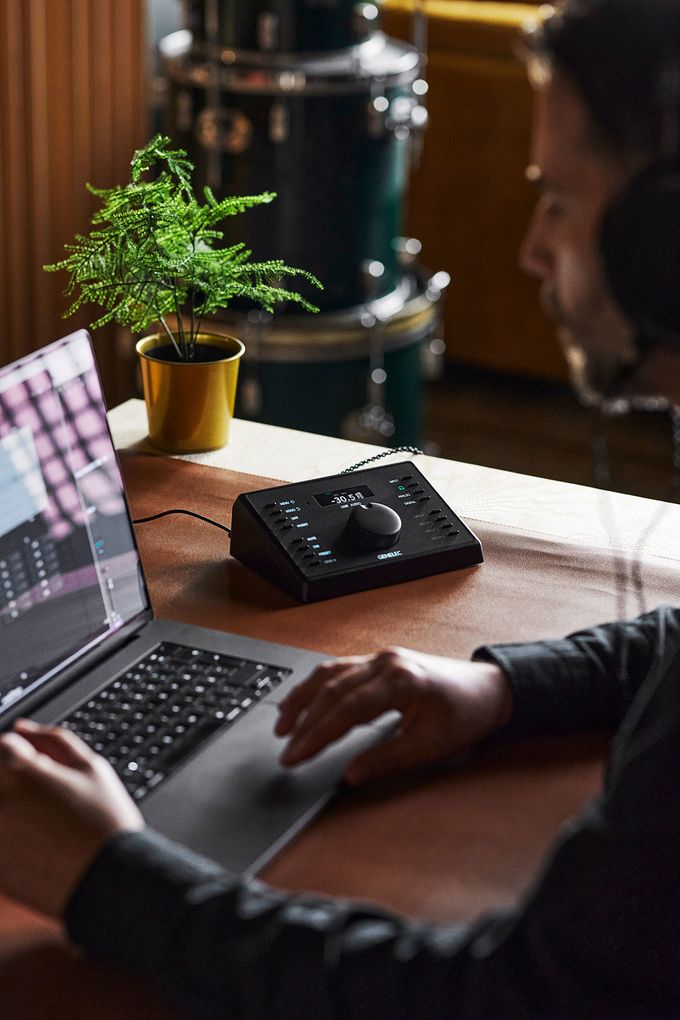 Features

1. Tactile monitor control from stereo to immersive

Management of scalable Genelec Smart Active (SAM) Monitoring systems

With tactile control of key functionality in Genelec Loudspeaker Manager (GLM™) software, the 9320A provides an intuitive, quick-to-access physical user interface with clear haptic feedback – allowing you to speed up your workflow and hide the graphical user interface of GLM, so you can retain focus on your DAW.
Easy management of alternative monitoring systems in one room

Having GLM control at your fingertips enables fast switching and management of in-room SAM Monitoring layouts, while the 9320A also provides level alignment and standard control of directly connected stereo monitoring systems. This simplifies movement between monitoring options and allows you to fully trust what you hear. Working with any DAW and audio interface system, the 9320A – with GLM – can handle an unlimited channel count for SAM Monitoring systems. And alternative stereo loudspeaker monitoring is easily connected using in-device AES/EBU and analogue inputs.
Intelligent one-button switching for seamless in-room and headphone monitoring
The 9320A also provides level alignment for headphone monitoring, meaning it's able to switch from any of your monitoring systems to another without a level change. This gives you smooth and easy switching between all loudspeaker and headphone-based monitoring, without the need to readjust the monitoring level each time.
2. AES/EBU connectivity for the purest signal path

Versatile in-device monitoring options

Stereo and stereo-with-subwoofer monitoring systems can be directly connected to the 9320A using analogue and AES/EBU input/output connectivity, with the option to input high resolution stereo audio over USB from a computer. The 9320A outputs support both fixed line level output in 'SAM' mode and adjusted line output. Both modes are available over its balanced analogue outputs and AES output. This makes the 9320A compatible with any professional loudspeaker monitor or headphone sets.
High-quality DAC conversion of signal

It's also possible to use the 9320A as a high-quality converter from analogue inputs to AES out and from AES to analogue outputs. This makes it hugely versatile – and an extremely effective hub for professional monitoring tasks. The maximum level of the analogue balanced line input can be set to +12 dBu or +24 dBu. The USB audio and AES digital audio inputs to AES digital output offer an A-weighted dynamic range of 138 dB.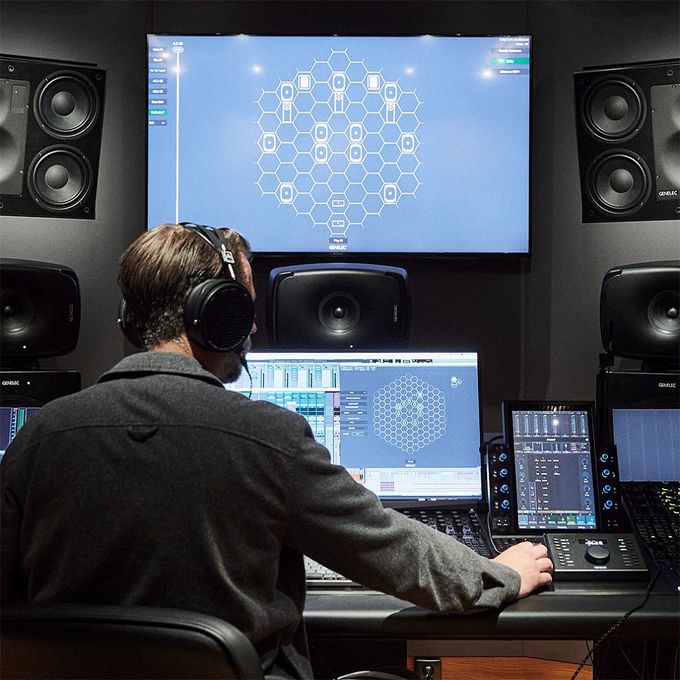 3. Reference grade headphone output
Personal headphone sound character calibration is a natural part of the 9320A as a device for reference level listening. The headphone output can handle headphone impedances ranging from 16 to 600 ohms, with excellent linearity (THD+N less than -110 dB) and dynamic range (126 dB), offering a maximum RMS output of 6 volts – for access to the best possible performance from any high-quality professional headphones.
Enhanced headphone monitoring using Aural ID™ Technology
Genelec Aural ID Technology enables access to obtain and use your unique personal HRTF data to render reliable stereo, multichannel and immersive monitoring layouts with accurate virtual loudspeaker positioning and out-of-the-head externalised reproduction – using any high-quality professional headphones. Aural ID integrates perfectly with the headphone output of the 9320A, for the highest possible standard of headphone monitoring.

4. Speaker calibration with GLM and calibrated listening level

Automatic GLM AutoCal™ calibration

GLM software works with Genelec Smart Active (SAM) Monitoring systems to enable neutral, carefully aligned audio reproduction over loudspeaker monitors – with correctly calibrated and equalised subwoofer support as needed – and access to detailed GRADE™ Room Acoustic Reports. For this, a factory-calibrated reference microphone is included with the 9320A.
Alignment of all monitoring options

The 9320A offers reproduction level alignment across all loudspeaker-based monitoring layouts and headphones, for the smoothest possible transitioning between loudspeaker and headphone-based monitoring.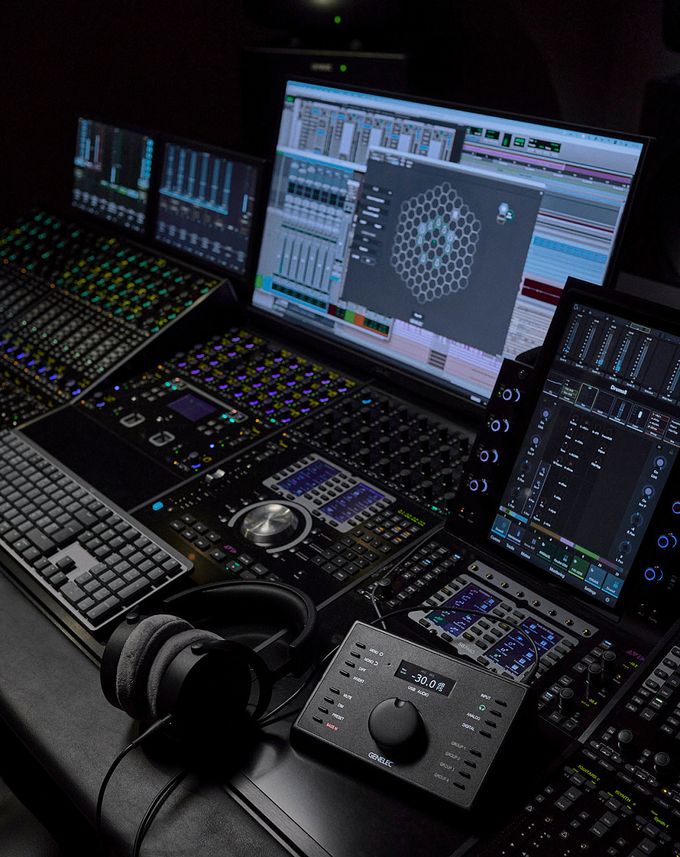 5. Safe listening – Noise dose estimation 

Hearing health support during monitoring

Continuous A, C and Z weighted SPL monitoring, shown on the backlit display of the 9320A, allows quick assessment of listening safety. SPL is sampled using the included reference microphone for in-room audio and calculated using headphone sensitivity data for the headphone audio. The audio engineer sound exposure dose is logged, and hearing health exposure dose alarms can be easily set.  Combined with the ability to create highly linear monitoring systems – which naturally support minimal hearing fatigue – these features make the 9320A a key ally for hearing protection.
Interested in Genelec products or want to preorder? Feel free to contact us!