Universal Audio Arrow is now called Apollo Solo.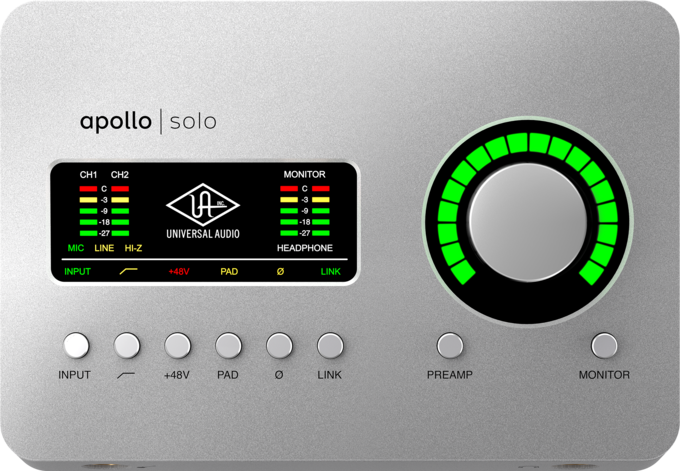 Apollo Solo is a Desktop 2 x 4 USB or Thunderbolt 3 Audio Interface w/ Realtime UAD-2 SOLO Processing.
Featuring class-leading Universal Audio conversion, two Unison mic preamps, and a suite of built-in effects, Apollo Solo USB puts album-quality recording on your desktop. This 2 x 4 USB audio interface for Windows also includes a generous collection of UAD plug-ins to record vocals and instruments through, at near-zero latency.

Unison™ Technology for Stunning Mic and Guitar Preamp Emulations
Apollo Solo USB's Unison technology gives you the tone, touch and "feel" of the world's most sought-after tube and transformer-based mic preamps and guitar amps. It includes the UA 610-B Tube Preamp, Marshall® Plexi Classic Amplifier, and Ampeg SVT-VR Classic Bass Amp plug-ins — and can be expanded with exclusive titles from Neve,® Avalon,® SSL,® Fender,® and more. The secret is a unique hardware-software integration, which adjusts the impedance of Apollo's instrument and mic preamps to match the emulated hardware — for authentic analog sound unmatched by other recording interfaces.
Realtime UAD Plug-In Processing for Recording with Near-Zero Latency
Derived from Universal Audio's award-winning Apollo interfaces, Apollo Solo USB opens up a range of classic analog color via its Realtime UAD Processing. Featuring an onboard UAD-2 SOLO Core processor, Apollo Solo USB lets you monitor and record through the full library of UAD Powered Plug-Ins — at near-zero latency, regardless of your audio software buffer setting. It's like having a virtual analog studio that fits in a laptop bag.
The UAD library features more than 100 titles and offers everything from classic Moog filters to Ampex tape to Lexicon reverbs — with more being added every few months.* These are the exact same UAD plug-ins used on hit records by Billie Eilish, Kendrick Lamar, Dr. Dre, Foo Fighters, and many more.
Built for Musicians, Electronic Producers, and Songwriters
Apollo Solo USB's robust all-metal construction, best-in-class headphone amplifier, and superior audio conversion is perfect for musicians, songwriters, and electronic music producers who need UA quality in a compact package.
Key Features
Desktop 2 x 4 USB audio interface with class-leading 24-bit/192 kHz audio conversion
Unison mic preamp and guitar amp emulations from Neve,® API,® Avalon,® Manley,® Marshall,® Fender,® and more*
Realtime UAD Processing allows near-zero latency tracking with classic UAD plug-in effects, regardless of software buffer setting
Includes studio compressors, EQs, reverbs, and guitar amp emulations, and more as part of "Realtime Analog Classics" bundle
Best-in-class headphone amplifier for loud, detailed, low-noise monitoring
Apollo Solo is available in two different versions:
Apollo Solo (replaces Arrow)
Compatible with Thunderbolt 3 Mac and Windows 10 computers

Bus-powered from Thunderbolt 3 computer

Thunderbolt cable not included

Apollo Solo USB (New intreface for PC)
Compatible with Windows 10 computers (64-bit Edition)
USB 3.0 required (USB-A or USB-C connection)
USB cable not included
Power supply is included

Realtime Analog Classics Plus bundle includes:
UA 610-B Tube Preamp & EQFairchild 670 Compressor (Legacy)
UA 1176LN Limiting Amplifier (Legacy)
UA 1176SE Limiting Amplifier (Legacy)
Pultec EQP-1A EQ (Legacy)
Marshall Plexi Classic Guitar Amp
Pultec Pro EQ (Legacy)
Teletronix LA-2A Leveling Amplifier (Legacy)
Raw Distortion
AmpegSVT-VR Classic Bass Amp
Precision Channel Strip(Precision Mix Rack Collection)
Precision Reflection Engine(Precision Mix Rack Collection)
Precision Delay Mod(Precision Mix Rack Collection)
Precision Delay Mod L(Precision Mix Rack Collection)
Precision Enhancer Hz
RealVerb ProCustom Room Modeler
Intrested in Universal Audio products? Contact us ;)