Genelec Immersive Audio Experience on 8-9 May 2023 at msonic Baltic Latvia's Showroom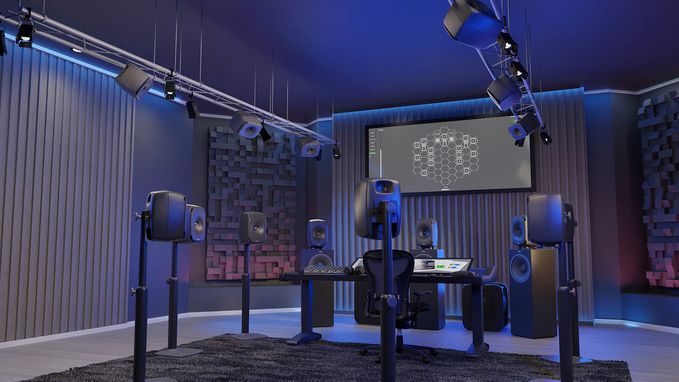 Attention audio engineers and music enthusiasts! Have you ever experienced a song that seemed to transport you to another place? Get ready to take that feeling to the next level with Immersive Audio – the latest trend in the entertainment industry that provides a powerful sense of envelopment and realism, bringing music, movies and computer games to life in a way that's just not possible with traditional audio formats.

Join us for public listening sessions thourgh 8-9 May 2023 at 11:00 - 19:00 in msonic Baltic Lativa's showroom to experience the Genelec SAM™ 5.4.1 Immersive Audio System with Universal Audio x16 audio interface and to learn more about this exciting new technology.
Immersive audio (also known as 'spatial audio', '3D audio' or '360° audio') makes use of multiple channels to completely surround the listener in two, three or more 'layers'. It's a revolutionary concept that allows listeners to experience music as if they are surrounded by the sound by creating a sense of depth and dimensionality that immerses you in the music and transports you to another world. This technology has become increasingly popular in recent years, and it's easy to see why – it provides a unique listening experience that simply can't be replicated by traditional stereo setups.
This immersive setup consists of Genelec SAM™ (Smart Active Monitor) speakers and Universal Audio x16 audio interface: one of the best combinations for creating a high-quality spatial audio experience. Genelec speakers are renowned for their clarity and precision, providing crystal-clear sound that accurately reproduces every detail of the music. Genelec's SAM™ and GLM technology allow the user to calibrate either small stereo systems or huge immersive monitoring systems with ease to ensure the best possible frequency response and phase alignment for making accurate, informed mix decisions.
Universal Audio x16 audio interface is a powerhouse that provides a range of tools and features such as 16 channels of mastering grade AD/DA converters and near zero latency UAD plug-in processing which helps to create the perfect mix and listening experience.
This event provides the opportunity to experience immersive audio firsthand and to gain a better understanding of how this technology works. You'll be able to hear the music in all its glory and gain insights into sound engineering from experts working in the field. You'll also have the chance to network with other audiophiles, sharing your love for music and discussing the latest trends in the industry. 
The Genelec Immersive Audio Experience event is happening on 8-9 May 2023 at 11:00-19:00 on both days in msonic Baltic Latvia's showroom located at Elku iela 3, LV-1012 Riga, Latvia.

This event is expected to be busy, please register your participation by sending us your name and preferred time slot via info@msonic.lv. 
Our 5.4.1 immersive audio system features Genelec SAM™ speakers and Universal Audio x16 interface:
Genelec:
3 x 8341 SAM™ in the front
2 x 8331 SAM™in the back
4 x 8330 SAM™ at the top
1 x 7370 SAM™ subwoofer
Universal Audio x16 audio interface
---
---
Immersive audio is the future of music, join the experience.
Thinking of going immersive? Contact us: